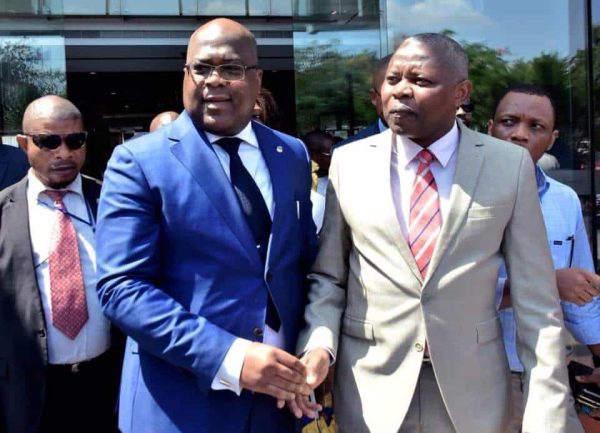 While many expected that Vital Kamerhe will face President Tshisekedi in the presidential election scheduled for the end of this year in the Democratic Republic of the Congo, his UNC Ppolitical Party announced that it has decided to support the candidacy of President Felix Tshisekedi.
In the general meeting of the Vital Kamere's polical party(UNC)  held  yesterday on August 19, 2023, the members of this Political Party ,presented President Tshisekedi as a candidate and said that he is the one they will support in the presidential elections that will take place in December 2023.
The UNC, explained that  President  Thisekedi  is supported by many Congolese and that they cannot ignore the will of the people.
In this general assembly, the members of the UNC  ,  decided to put more effort in the elections of the Deputies, in order to have the majority in the Legislative Assembly and in the Government.
Vital Kamerhe, who was recently appointed Minister of Economy in the Congo in a way that surprised many after leaving the prison he was put in due to the conflict he had with President Thisekedi,   he used to be Thsisekedi's political friend and helped him in campaign for the previous Presidential election in  2018 .
However, their friendship did not last longer  because Kamerhe who was in charge of Tshisekedi's office, was imprisoned in 2020 on charges of embezzling the so-called hundred days' money, which was intended to build basic infrastructure while the government was not established.
At that time, Vital Kamerhe denied the allegations, saying that everything was based on political reasons, because President Tshisekedi was not in agreement with him  .
After being accused of embezzling the money, he was sentenced to 13 years, but the sentence was removed and got  released in April 2022.
After his release, many Congolese and DRC political observers felt that Vital Kamerhe could no longer work with Peresidendet Felix  Tshisekedi because he had  locked him up.
This came as a surprise due to the fact that Kamerhe is the head of the UNC party, and this party is the one that presented Tshisekedi as a candidate.
It is said that the decision to release Vital Kamerhe before his sentence was completed and he was immediately made the Minister of Economy, is a tactic used by President Tshiskedi, to get close to him  for  supporting him again in this coming Presidential election as happened in 2018.
Claude HATEGEKIMANA
Rwandatribune.com
Source:Rwandatribune